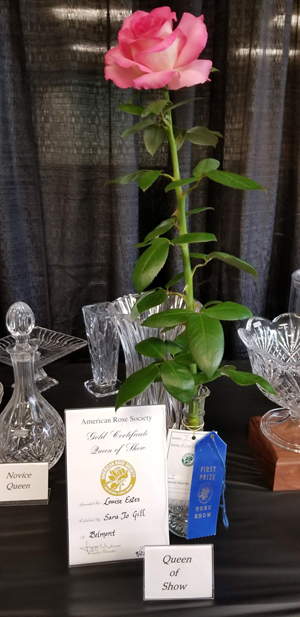 The Nashville Rose Society 2018 Rose Show was held on Saturday, September 22, and Sunday, September 23, at the Belmont University Gabhart Student Center, 2002 Belmont Blvd., Nashville, Tennessee.

"Basics of Growing Roses" seminars were held on Saturday and on Sunday. The seminar on Saturday seminar was presented by Ron Daniels, ARS Master Consulting Rosarian, and Sunday's seminar was presented by Marty Reich, ARS Master Rosarian. The seminars were free to the public.
The winners in the Royal Court were:

| Place | Variety | Shown by | Certificate |
| --- | --- | --- | --- |
| Queen | Louise Estes | Sara Jo Gill | ARS |
| King | Crescendo | Jill Garabedian | ARS |
| Princess | Affirm | Bill & Jill Chappell | ARS |
| Royal Court | All My Loving | Bob Jacobs | NRS |
| Royal Court | Sunny Sunday | Bill & Jill Chappell | NRS |
| Royal Court | Cajun Moon | Bill & Jill Chappell | NRS |
| Royal Court | Moonstone | Bill & Jill Chappell | NRS |
| Royal Court | Raphaela | Bill & Jill Chappell | NRS |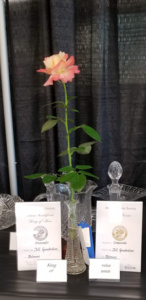 See the full results here.
Ron Daniels, NRS President, summed it up the show like this – "Wow! What a great Rose Show at Belmont! Our show was unbelievable this year! We had 10-13 people who showed their roses for the first or second time. Most of them won 1st place ribbons and Bob Bowen had one that made the front table. I helped him at 6:00 am and at 9:30am he was helping another first timer. That is why I love NRS members."
"When judging was finished there were 30-50 people waiting to enter the show. Over 100 people walked thru the show on Saturday afternoon. "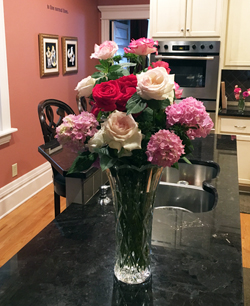 "There are a lot of people to thank. The first person is Judy Fisher for allowing us to have our show at Belmont. She came Saturday and walked thru the show. She also walked with me and the people who attended my workshop to the Belmont Rose Garden and gave the history of the Rose Garden during the walk. Thank you Judy and Belmont staff. Connie Baird made a rose arrangement for her to take home."
"I want to give a special thanks to John Wendler. He worked for months with the people at Belmont to make everything fall into place. John is a "Marketing Wizard" and is turning into one heck of a Rosarian! I also want to thank everyone who helped set up, manage and break down the show. You guys are the Best! We could not do it without you guys. I almost left out the "ring leader of our show", Larry Baird. Thanks for your leadership and guidance. I love it when you say 'We got ourselves a rose show.'"
Visit our Facebook page for more photos of the show.