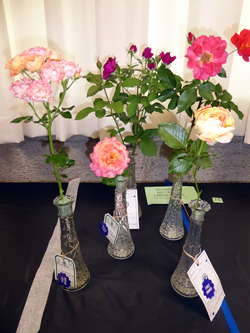 The 2019 Fall Grand Prix Rose Show will be held during our regularly scheduled monthly meeting on Sunday, September 8, 2019, in the Potter Room at Cheekwood. The Grand Prix is a rose show that is held at a regular NRS meeting and its purpose is to give members a chance to learn about and practice exhibiting roses.
Click here for the Grand Prix Show Schedule!
A grooming room will be set up at 1:00pm for those rosarians experienced in showing roses. Their entries will be due at 2:00. Tables will be set up, manned by the experienced exhibitors, with demonstrations on different aspects of showing roses. Anyone who wants help getting their roses ready to show should come to the meeting at 2:00 for hands-on help with getting their roses ready for the show floor. All entries must be placed by 3:00.
This is a great opportunity to learn, hands-on, about showing roses and will be very good review in preparation for the Nashville Rose Show on Sept 28.
---