Note! The October meeting will be held at Belmont from 2:00pm – 4:00pm
The October meeting of the Nashville Rose Society will be held at the Frist Lecture Hall at Belmont University, 1515 Wedgewood Ave, Nashville, TN 37212, just off Wedgewood Avenue. The Frist Lecture Hall is on the fourth floor in the Inman Center, which is Building #6 on the Belmont campus map. Please note! the meeting will be held 2:00pm – 4:00pm. See below for parking directions.
NRS is honored to have as its speaker Dr. Jim Hering, President Emeritus of the American Rose Society and the Great Garden Restoration Project Fund Raising Chairman. He will be speaking on the Great Garden Restoration Project of the American Rose Center in Shreveport, Louisiana – the current status of the Restoration Project, as well as the future work to be completed.
Jim and his wife of 55 years, Anne Hering, live in Marion, Ohio. They have four sons, nine grandchildren and one great-grandson. Jim retired from thoracic surgery after 31 years.
Jim joined ARS in 1975; he is a Consulting Rosarian and a Horticulture Judge. He has held several offices in both ARS and his local region and district – Buckeye District Director 1988-1994, ARS Vice President 1994-1997, ARS President 1997-2000, Region 4 Director 2009-2015 – and was ARS Gold Medal recipent in 2006.
Currently, Jim is chairman of the ARS Miniature Rose Committee and the Buckeye District Horticulture Judges and Roses in Review.
Great Garden Restoration Project 2017 – 2022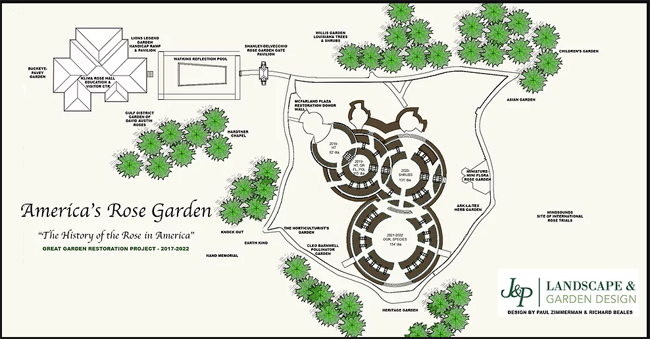 Parking:
The Inman Center is the beautiful big center building facing Wedgewood that has the circular drive in front of it. There's a parking garage underneath the building that you access from Wedgewood Ave. Look for the sign out in front of the Inman Building on Wedgewood Ave, indicating the entrance to the parking garage. Once you turn off of Wedgewood Ave to enter the garage, parking for the Inman Center is on the right and is clearly marked. There are elevators just as you come into the garage with unloading space in front of them. Visitor parking is to the left. Take the elevators to the 4th floor and turn right when you get off. Our meeting room is there. Thanks so much Belmont!
---