Note! The October meeting will be held at Belmont Univetsity and on GoToMeeting from 2:00pm – 4:00pm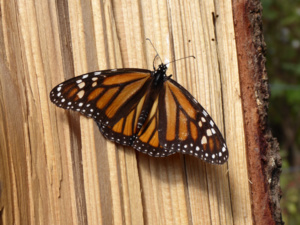 On Sunday, October 10, 2021, the Nashville Rose Society is pleased to announce that our speaker will be Rosemary Chamberlain, a Certified Tennessee State Naturalist. Rosemary's presentation will be on the wondrous, miraculous monarch butterfly, including numerous photographs that she has taken.
Among other things, she will be addressing: Why is it so important to care about this particular and extraordinary insect? What is so amazing about its lifecycle? What nectar and important host plants can we plant in our gardens? What factors are contributing to its 80-90% population decline? Her goal is to motivate everyone to go home and plant their own garden for monarchs.
Rosemary is a retired Registered Nurse. Her experience with roses here in Tennessee was planting about 20 beautiful knock out roses and then having to tear them all out due to rose rosette disease. She now has a large collection of cone flowers in their place. Rosemary and her husband have 13 acres in Dickson on which they are gradually removing invasive plant species, planting native plants, and turning it into a natural area for wildlife and pollinators. They have 12 bluebird boxes on the property.
The October meeting of the Nashville Rose Society will be held at the Ayers Academic Center (Rooms C & D) at Belmont University, 1515 Wedgewood Ave, Nashville, TN 37212, just off Wedgewood Avenue. Ayers Academic Center is Building #8 on the Belmont campus map, and is the building next to the Inman Center where the Frist Lecture Hall is located (location of previous NRS meetings).
Parking: The Ayers Academic Center is located at the corner of Wedgewood and 15th avenues on the northern front of campus. The entrance to the parking garages for both buildings is the same as we used last year. There are two elevator banks in the garage underneath the Ayers Academic Center – the South and North elevators. Members should park by, then use, the North elevators to the 4th floor. These open up directly across from our meeting room – which is Ayers C & D. It is not easy to find the meeting room from the South elevators!
Anyone who wishes to join the meeting virtually should see Marty Reich's email to NRS members for information on how to log into GoToMeeting. If you would like to attend as a guest, please submit your request on the Ask a Consulting Rosarian form on the website.
Hope to see you there!
---