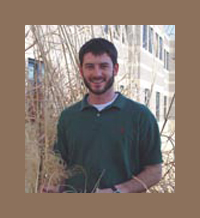 The November meeting of the Nashville Rose Society is back at the usual time and usual place – 2:00pm – 4:00pm at Cheekwood. Our speaker is Jason Reeves, horticulturist at UT and the curator of the UT Garden at Jackson. Jason will speak on"A Year in the Garden". He will give tips and techniques on garden care and maintenance as well as top-performing plants for each season.
Jason grew up not far from the West TN AgResearch and Education Center on a farm in rural Carroll County near Huntingdon, Tennessee. As a college student, he interned at the Opryland Conservatories in Nashville and the Missouri Botanical Garden in St. Louis. He received his Masters in Ornamental Horticulture and Landscape Design from UT in 1999. After school, Jason worked at the famed Longwood Gardens, the former estate of Pier DuPont (of the chemical company) near Philadelphia. He also traveled to New Zealand, where he worked and lived at Palomia Gardens for four months. Recently, Jason was named Contributing Editor at Fine Gardening magazine.
Jason's major projects at this Research Center include developing the grounds, improving the plant collection, and conducting research on herbaceous and woody ornamentals.
Please join us for this very informative meeting!
---