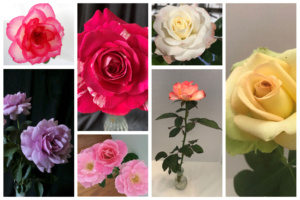 Since we are unable to hold an actual rose show this year, members of the Nashville Rose Society were encouraged to have some fun and take photos of their roses to enter in our first virtual rose show. This is not an ARS sanctioned rose show. NRS virtual certificates will be awarded.
The entries for the Nashville Rose Society Virtual Rose Show have been judged. See the results of the 115 entries in 11 classes. Take a stroll through our virtual hall of roses and enjoy the beauty of America's favorite flower grown and submitted by members of the Nashville Rose Society.

Entries and results are shown below by class:
Click here for the show schedule.
"On behalf of the entire NRS membership, Ron Daniels, Co-President of the Nashville Rose Society, and I would like to thank Mary Hext, Marty Reich and Diane Coleman for all the excellent work they did to organize and then execute our first virtual rose Show. The end result was an unqualified success! But, the person at the center of it all – determining how the show would work, identifying the judges, organizing all the entries, educating us on how to take good rose photos, etc – was Mary Hext. Mary spent countless hours making sure that every aspect of our Show was well thought out and easy for our members to enter. So, please join Ron and me in giving Mary a big THANK YOU for all of her hard work." — John Wendler, Co-President of the Nashville Rose Society.
---