Located at 121 4th Avenue South, Nashville, TN 37203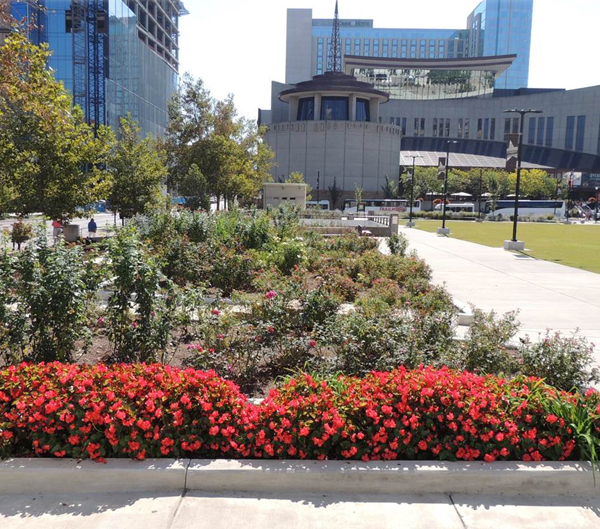 The Nashville Music Garden at the Walk of Fame Park is located between 4th and 5th Avenues in front of the Country Music Hall of Fame in downtown Nashville. (Click here for a map.) The original garden was built in 2007-2008 next to the Schermerhorn Symphony Center, home of the Nashville Symphony. The garden was built under the direction of Barbara Mandrell, Pat and George Bullard of the LifeWorks Foundation, and Louis Mishu of the Nashville Rose Scoiety.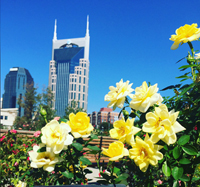 The garden was moved to the Walk of Fame Park in 2014 with the help of Ron Daniels, President of the Nashville Rose Society (2017-2018).
The roses in the garden all have a music theme. The roses in the garden are named for country music performers or for country music songs. Many of the roses in the Garden were hybridized by the late Whit Wells.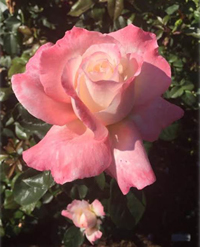 Sam Jones, of the Nashville Rose Society, came up with the idea of creating a rose to honor the Nashville Symphony. The Crescendo rose, a fragrant cream and pink blend hybrid tea rose bred from two award-winning parents, 'Gemini' and 'New Zealand', was hybridized by Debbie and Keith Zary of Jackson & Perkins. The Nashville Symphony named the rose Crescendo. Sam worked tirelessly saving the rose when Jackson & Perkins went out of business. He gathered rose cuttings from gardens of members nearby to restart the wholesale growing of the rose. Today we enjoy the Crescendo rose in the three Nashville rose gardens.
Roses in the Nashville Music City Garden
Alabama, All American Girl, (I Will) Always Love You, Amazing Grace, Amy Grant, Barbara Mandrell, Blue Bayou, Blue Suede Shoes, Brand New Girlfriend, Brenda Lee, Butterfly Kisses, Change of Heart, Chantilly Lace, Coal Miner's Daughter, Coat of Many Colors, Cool Water, Crescendo, DeFord Bailey, Dinah Shore, Dolly Parton, Dusty Springfield, Elvis, Everlasting Love, Footlights, Funny Face, Garden Party, Gentle Giant, Good Ole Mountain Dew, Grand Ole Opry, Happy Trails, Heart of Gold, Ida Red, Julio Iglesias, Kiss An Angel Good Morning, Kitty Wells, LeAnn Rimes, Lee Greenwood's American Patriot, Legends, Little Jimmy Dickens, Little Sister, Lynn Anderson, Mandrell Family Rose, Minnie Pearl, Moon Dance, Mountain Music, Nashville, Night Life, Orange Blossom Special, Pam Tillis, Passionate Kisses, Patsy Cline, Pretty Woman, Purple Haze, Reba McEntire, Ring of Fire, Rocky Top, Shameless, Shania (Twain), Shenandoah, Sweet Dreams, Sweet Home Alabama, Tennessee Waltz, The Streak, White Lightnin', The Widow of the South, Wildfire, Zell.