Monthly meetings, unless otherwise noted, are held at Cheekwood Botanic Hall in the Visitor Services Building on the first Sunday of the month, usually from 2:00 – 4:00pm. The meetings are free to guests, as is admission to Cheekwood for meetings. Simply tell the gate attendant that you are there for the Nashville Rose Society meeting. Cheekwood Estate and Gardens are located at 1200 Forrest Park Dr, Nashville, TN 37205. Click here for a map.
---
Sept 28-29 – NRS Rose Show at Belmont University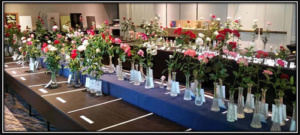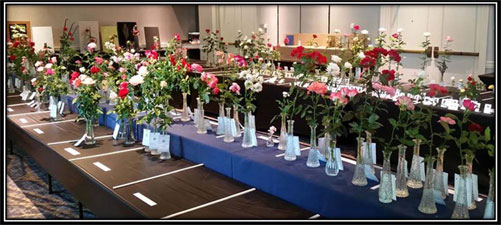 The Nashville Rose Society will hold its Annual Rose Show on September 28 & 29, 2019, at Belmont University in Nashville, Tennessee. Admission and parking are both FREE to the public from 1:00 to 4:30 PM on Saturday September 28th and from 11:00 AM to 4:30 PM on Sunday September 29th.
Over 30 of the most accomplished exhibiting rosarians from across Tennessee, Kentucky and Alabama will compete for awards in multiple categories – from hybrid teas, floribundas and miniatures to shrub roses and old garden roses – displaying hundreds of absolutely beautiful roses in a variety of colors and fragrances. There will be a competition for best rose arrangements as well.
On each day of the show, at 2:00 PM, a Nashville Rose Society Consulting Rosarian will conduct a FREE workshop on the "Basics of Growing Roses", designed to introduce rose care to the beginner or novice. Come and learn how to properly prepare your soil, when and how to prune, as well as proven techniques for fertilizing and protecting roses from damaging insects and diseases. Everyone attending the workshops will receive a complimentary packet of information and tips about growing beautiful roses in Tennessee. After each workshop, guided tours will be available of the Belmont's two spectacular rose gardens – the original Belmont Rose Garden, which now contains over 200 roses of 70 different varieties, as well as the new Adelicia Acklen Rose Garden, which contains some of the same rose varieties Adelicia grew back in the 1860's when she occupied the mansion.
The Rose Show will be held in the Gabhart Student Center, rooms A & B, on the campus of Belmont University, located at 2002 Belmont Blvd. Nashville, TN. Parking is FREE. Click here for a map of the campus.
Click here for the Rose Show Schedule.
---
October 4-6 – ARS Miniature National Conference & Rose Show

The American Rose Society 2019 Mini National Convention and Rose Show combined with the Deep South District and TENARKY District Show dates have been finalized.
With a perfect theme of Music City Roses and the ideal location of Franklin, TN, just minutes to Nashville known for its Legendary Country Music Venues, this exciting convention and rose show have created quite a buzz!!
(more…)
October 6 (at Belmont, NEW time!) – Marilyn Wellan, Former ARS President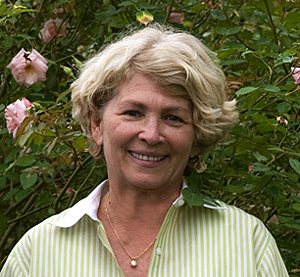 The October meeting of the Nashville Rose Society will be held at the Frist Lecture Hall at Belmont University, 1515 Wedgewood Ave, Nashville, TN 37212, just off Wedgewood Avenue. The Frist Lecture Hall is on the fourth floor in the Inman Center, which is Building #6 on the Belmont campus map. Please note! the meeting will start at 4:00pm – 6:00pm to allow attendees of the Nashville Rose Garden tour (including our speaker) to return from the tour.
We are honored to have as our speaker Marilyn Wellan, the American Rose Center's Coordinator of the Great American Garden Restoration Project, a former ARS President and a Gold Honor Medal Recipient. Marilyn will be sharing the history of the Garden, current status for the Restoration Project, as well as the future work to be completed.
Marilyn was the second woman to serve ARS President. Among her many accomplishments, she helped bring the ARS and the Heritage Rose groups together to jointly embrace the mission of the protection, preservation and promotion of heritage roses. She lives and gardens in Louisiana and has the distinct honor of being the namesake of a spectacular rose.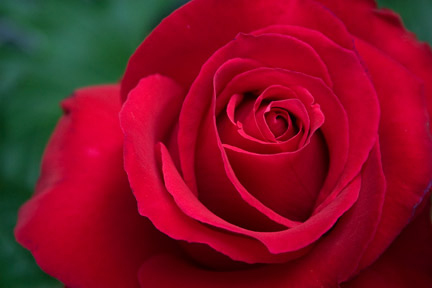 ---
For a list of past meetings and events, click here.
---