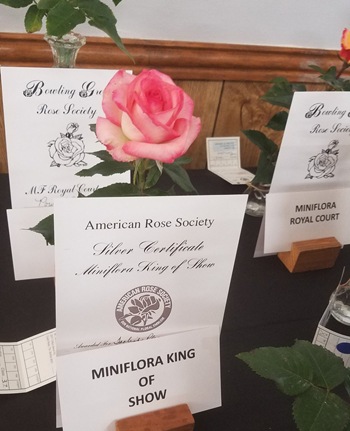 The 2019 Bowling Green Rose Society Rose Show was held on May 18, 2019, at the American Legion Building in Bowling Green, KY.
For a full listing of show winners click here (pdf).

And, the winners are!
Royal Court
Queen – Moonstone, Ricky Lockhart
King – Garden Party, Ricky Lockhart
Princess – Let Feedom Ring, Ricky Lockhart
Royal Court – 4th – Black Magic, Mary Ann Hext
Royal Court – 5th – Gemini, Ricky Lockart
Miniture Court
Queen -Edisto, Gene Meyer
King – Arcanum, Cindy Wernigk
Princess – Renegade, Larry Baird
Royal Court – 4th – Soroptimist International, Larry Baird
Royal Court – 5th – Daddy Frank, Gene Meyer
Miniflora Court
Queen – Whirlaway, Bob and Ann Jacobs
King – Foolish Pleasure, Larry Baird
Princess – Baldo Villegas, Sharon Wuorenmaa
Royal Court – 4th – Conundrum, Larry Baird
Royal Court – 5th -Power Point, Gene Meyer
Congratulations to Cindy and Dan Wernigk for winning "Best Of Show", Joyce Cox for winning "Novice Horticulture", and Cynthia Dickinson for winning "Novice Arrangement". Mary Ann Hext won large and small gold in arrangements.
Nashville Rose Society members were well represented at the show including Connie Baird, Larry Baird, Martha Garman, Mary Ann Hext, Bob Jacobs, Ann Jacobs, Dan and Cindy Wernigk, and Gene Meyer.
---