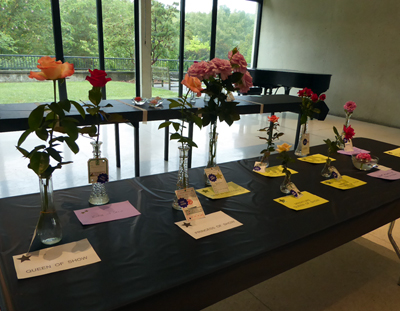 The Nashville Rose Rose Society held the annual Grand Prix Rose Show at Cheekwood on Sunday, September 9, 2018. The Grand Prix is an in-house rose show and a perfect opportunity for new members to learn how to exhibit roses.

In addition to the show competition, Consulting Rosarians spoke about different aspects of showing roses. Larry Baird spoke about the ins and outs of the Horticulture division. Connie Baird gave examples of how easy it is to enter a show's Arrangments division. Gene Meyer spoke about showing Old Garden Roses, and Jack Wedekind provided a lecture about refrigerating roses that are cut up to a week before a show.
The winners are in!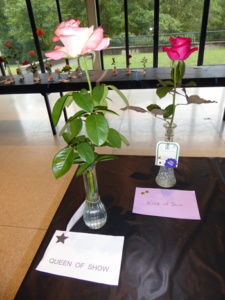 Section 1: Rose Specimen(single bloom hybrid tea or grandiflora)
Queen – Crescendo, Gene Meyer
King – Veteran's Honor, Marty Reich
Princess – April in Paris, Diane Coleman
Section 2: Rose Specimen (single bloom or spray of any large rose other than hybrid tea or grandiflora)
Best in Section: Love Song, Jill Garabedian
Section 3: Miniature or Miniflora Rose Specimen
Queen – Nancy Jean, Marty Reich
King – Foolish Pleasure, Gene Meyer
Princess – Shawn Sease, Marty Reich
Section 4: Miniature or Miniflora Sprays
Best in Section – Tammy Clemons, Gene Meyer
Section 5: Rose in a Bowl
Best in Section – Lynn Anderson, Lisa Sutton
Section 6: Most Fragrant Rose
Best in Section- Angel Face, Jill Garabedian
Sweepstakes Winner in Division 1:
Advanced Exhibitor – Gene Meyer
Novice Exhibitor – Jill Garabedian
Congratulations to all the participants who made this show a fun, learning experience. Special thanks to Keith Garman and Martha Weaver Garman who so faithfully coordinate the Grand Prix each year.
See more photos on our Facebook page.