Join us at our Monthly Meetings and Events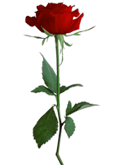 The Nashville Rose Society serves all of Middle Tennessee by sharing knowledge and information about our national flower, the rose. Through a monthly newsletter and meetings that feature regional and nationally recognized speakers, we bring you advice and instruction geared to growing roses in the specific soil and climatic conditions of this area. For all scheduled Meetings & Events, click here.
---
2021 Music City Rose Show Results
Hosted by the Nashville Rose Society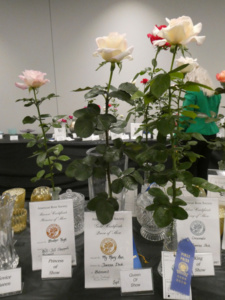 The Nashville Rose Society 2021 Music City Rose Show was held on Saturday, September 25, and Sunday, September 26, at the Belmont University Gabhart Student Center, 2002 Belmont Blvd., Nashville, Tennessee.
We had 22 exhibitors, including the rose classes, arrangements, judge entries, and photography entrants. Exhibitors included NRS members, exhibitors from Alabama, Kentucky, Arkansas and the Belmont garden staff member.
A Silent Auction was held for the first time, and raised money to help cover the cost of the show.
Over 200 visitors enjoyed the two days of the Show, including many of the parents of Belmont students on campus for Parent's Weekend. The venue at Belmont was ideal and the support we received from the Belmont staff was simply terrific.
---
2021 ARS National Convention & Rose Show
by Mary Ann Hext, Master Rosarian
Reprinted with permission from the Bowling Green Rose Society newsletter, Rosebuds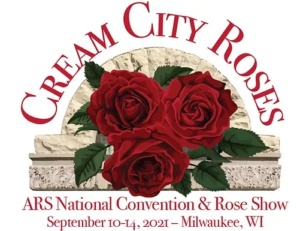 "Cream City Roses" was the theme of this year's ARS National Convention in Milwaukee September 9-14. My husband, Gary, and I drove part of the way on Thursday, so we could arrive in time on Friday for the tour available to attendees of the Pfister Hotel built in 1893. We chose to stay in the original part of the hotel which houses the largest Victorian art collection of any hotel in the world rather than the 23-story tower added in the 1960s. Our room was a suite looking out to other historic buildings and one floor below the rose show and meeting rooms which was very convenient. Marty Reich, Nancy Jones, and Lori Emery met us in Milwaukee at the show.
---
Rose Study Garden at Cheekwood – as of October 11, 2021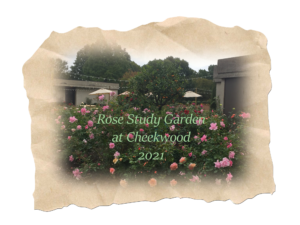 The Rose Study Garden at Cheekwood has a two-fold purpose: provide a beautiful garden of roses for Cheekwood visitors to enjoy, but primarily to function as a teaching garden for new and experienced rosarians.
This photo gallery is as of October 11, 2021. Cheekwood is full of fall color and the Rose Study Garden is in full bloom. The bees were working hard in the Garden – bumble bees, honey bees and sweat bees. Hover over the bee and click to zoom in.
---
Upcoming Meeting and Events

For all currently scheduled Meetings & Events visit the Meeting & Events page.
We are excited to announce that beginning in June, 2021, the monthly meetings of the Nashville Rose Society will be held in-person either at Cheekwood Estates and Gardens or on the Belmont University campus. See meeting announcements for details.
---
DATE CHANGE! October 16 – Ron Daniels Open Garden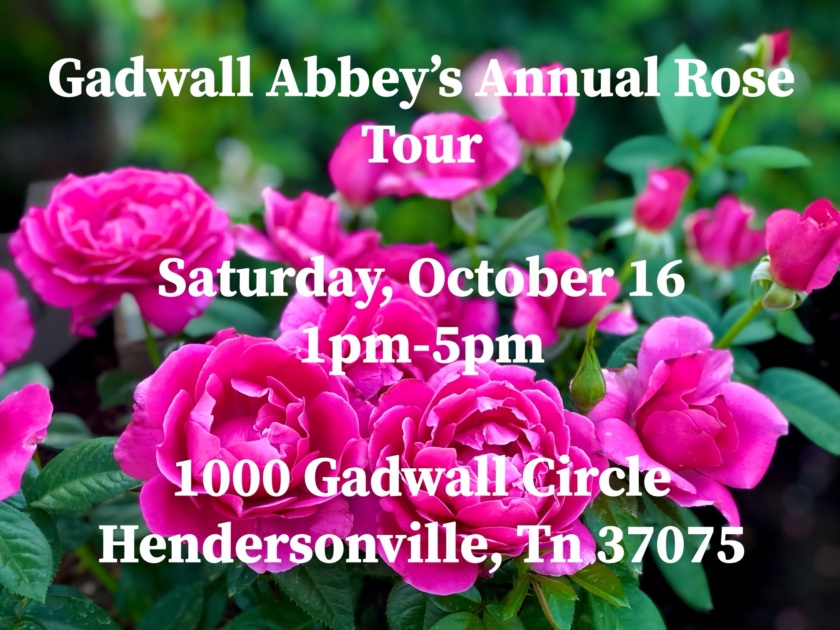 Ron Daniels, co-president of the Nashville Rose Society and Master Rosarian, will host his Gadwall Abbey's Open Garden on Saturday, October 16, 1 – 5pm, at 1000 Gadwall Circle, Hendersonville, TN 37075.
Ron has over 170 roses of all types and many companion plants in his Gadwall Abbey Garden. Ron's garden produces many Rose Show winners and has been featured on Talk of the Town.
If you have not seen Ron's garden, put this on your calendar!
---