Join us at our Monthly Meetings and Events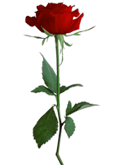 The Nashville Rose Society serves all of Middle Tennessee by sharing knowledge and information about our national flower, the rose. Through a monthly newsletter and meetings that feature regional and nationally recognized speakers, we bring you advice and instruction geared to growing roses in the specific soil and climatic conditions of this area. For all scheduled Meetings & Events, click here.
---
A Brief Overview of Rose Care in August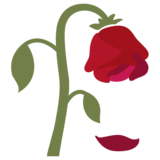 In Nashville, August is often one of the hottest months of the year. The Japanese beetles are gone, but the heat and humidity are going to be around a while!
Some tips for keeping your roses healthy and beautiful during this month:
Continue spray program.
There has been enough rain so far this summer for blackspot to run rampant if you do not spray a fungicide. Blackspot spores germinate when humidity is high and temperatures are in the range of 68-80 degrees F. They spread rapidly around 75 and do not spread well over 85 which is why hot, dry weather gives us spider mites instead of so much blackspot! Leaves that are wet for 6 hrs. are highly susceptible if the temperature is right.
Apply last application of granular fertilizer containing nitrogen if used.
Nitrogen is the element that stimulates growth. Many slow-release fertilizers will release over 30 to 90 days. Liquid fertilizers can be used every 1-2 weeks until the end of September. Beginning in October, roses need to be preparing themselves to survive over the winter, not growing.
Prune for fall rose shows (keep rose bushes free of weak growth).
Start getting ready for the Nashville Rose Show on September 28 – 29 at Belmont.
Be sure roses are well watered.
Oh, yes… Did we mention the Nashville heat in August?
Add more mulch if needed.
Mulch will help shade the roots of the rose and help the ground hold moisture.
See the Rose Care Calendar for a month-by-month list of how to take care of your roses.
---
Upcoming Meeting and Events

Monthly meetings, unless otherwise noted, are held at Cheekwood Botanic Hall in the Visitor Services Building on the first Sunday of the month, usually from 2:00 – 4:00pm.
For all currently scheduled Meetings & Events visit the Meeting & Events page.
Sept 28-29 – NRS Rose Show at Belmont University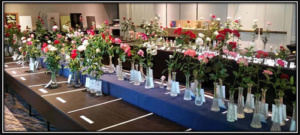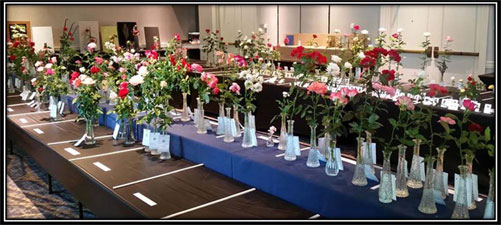 The Nashville Rose Society will hold its Annual Rose Show on September 28 & 29, 2019, at Belmont University in Nashville, Tennessee. Admission and parking are both FREE to the public from 1:00 to 4:30 PM on Saturday September 28th and from 11:00 AM to 4:30 PM on Sunday September 29th.
Over 30 of the most accomplished exhibiting rosarians from across Tennessee, Kentucky and Alabama will compete for awards in multiple categories – from hybrid teas, floribundas and miniatures to shrub roses and old garden roses – displaying hundreds of absolutely beautiful roses in a variety of colors and fragrances. There will be a competition for best rose arrangements as well.
On each day of the show, at 2:00 PM, a Nashville Rose Society Consulting Rosarian will conduct a FREE workshop on the "Basics of Growing Roses", designed to introduce rose care to the beginner or novice. Come and learn how to properly prepare your soil, when and how to prune, as well as proven techniques for fertilizing and protecting roses from damaging insects and diseases. Everyone attending the workshops will receive a complimentary packet of information and tips about growing beautiful roses in Tennessee. After each workshop, guided tours will be available of the Belmont's two spectacular rose gardens – the original Belmont Rose Garden, which now contains over 200 roses of 70 different varieties, as well as the new Adelicia Acklen Rose Garden, which contains some of the same rose varieties Adelicia grew back in the 1860's when she occupied the mansion.
The Rose Show will be held in the Gabhart Student Center, rooms A & B, on the campus of Belmont University, located at 2002 Belmont Blvd. Nashville, TN. Parking is FREE. Click here for a map of the campus.
Click here for the Rose Show Schedule.
---
October 4-6 – ARS Miniature National Conference & Rose Show

The American Rose Society 2019 Mini National Convention and Rose Show combined with the Deep South District and TENARKY District Show dates have been finalized.
With a perfect theme of Music City Roses and the ideal location of Franklin, TN, just minutes to Nashville known for its Legendary Country Music Venues, this exciting convention and rose show have created quite a buzz!!
(more…)