Join us at our Monthly Meetings and Events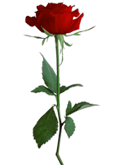 The Nashville Rose Society serves all of Middle Tennessee by sharing knowledge and information about our national flower, the rose. Through a monthly newsletter and meetings that feature regional and nationally recognized speakers, we bring you advice and instruction geared to growing roses in the specific soil and climatic conditions of this area. For all scheduled Meetings & Events, click here.
---
Winterization of Roses
by Marty Reich, NRS Master Rosarian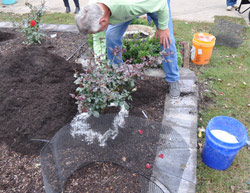 It is time to put the kids to bed. The last big rose chore before we get to put our feet up and enjoy the rose catalogs needs to be done by about the first week of December. A general rule is to wait until there have been two real (not just a couple of hours) freezes below 28 degrees F. Protect too soon and the bush will not have time to gear up its internal winterization mechanism.
See the full article here.

---
NRS / Tenarky District Members Attend ARS National Convention in San Diego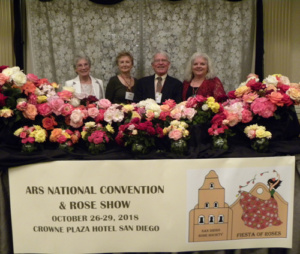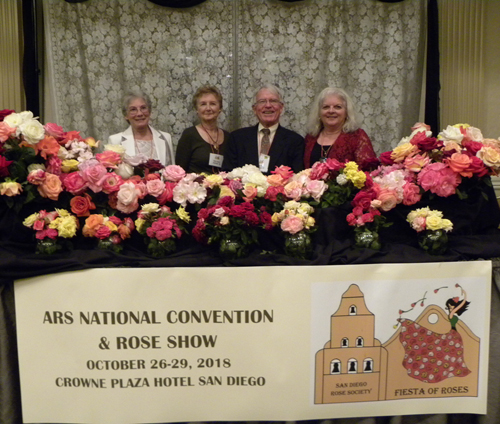 Marty Reich and Gerry Miller, NRS members, Gary Hext, and Mary Ann Hext, Tenarky District Director, attended the American Rose Society National Convention and Rose Show in San Diego in October, 2018.
Click here to read Mary Ann's account of her last ARS Board of Directors meeting as our Tenarky District Director.

---
Upcoming Meeting and Events
Monthly meetings, unless otherwise noted, are held at Cheekwood Botanic Hall in the Visitor Services Building on the first Sunday of the month, usually from 2:00 – 4:00pm. For all scheduled Meetings & Events, and a calendar of all events, click
here
.
December 3 – NRS Christmas Party, 6:00pm – 8:00pm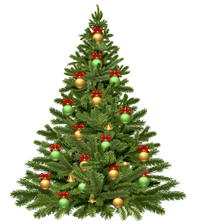 The Nashville Rose Society Annual Christmas Party will be held in the Frist Lecture Hall at Belmont University, 1515 Wedgewood Ave, Nashville, TN 37212, just off Wedgewood Avenue. The Frist Lecture Hall is on the fourth floor in the Inman Center, which is Building #6 on the Belmont campus map.
The Society will provide ham and turkey. Members are asked to bring a covered dish. We will be playing a Santa game! Everyone should bring a gardening related gift (less than $20) to exchange.
---
Like Us on Facebook