Join us at our Monthly Meetings and Events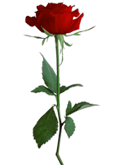 The Nashville Rose Society serves all of Middle Tennessee by sharing knowledge and information about our national flower, the rose. Through a monthly newsletter and meetings that feature regional and nationally recognized speakers, we bring you advice and instruction geared to growing roses in the specific soil and climatic conditions of this area. For all scheduled Meetings & Events, click here.
---
Tuesday for Tots at Cheekwood – Almost 150 Tots and Adults Participated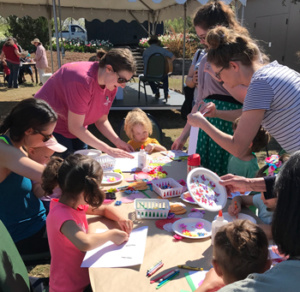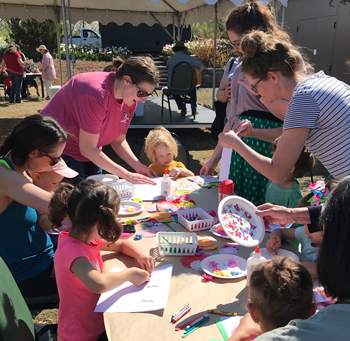 On Tuesday April 9th, 2019, the Nashville Rose Society partnered with Cheekwood Estate & Gardens in their Tuesdays for Tots program. Tuesdays for Tots provides art and garden adventures for toddlers. On April 9, NRS, led by Lani Rossmann treated the tots to two activities associated with flowers – "Paper Plate Garden" and "Paper Doily Flowers".
---
Cheekwood 2018 Century Star Award Presented to NRS
On March 25, 2019, as Nashville Rose Society members were hard at work in the Cheekwood Rose Study Garden pruning, checking pH, and fertilizing the roses, Cheekwood's Director of Volunteer Services Amy Walter presented our society with the Cheekwood 2018 Century Star Award for providing more than 100 hours of volunteer service during 2018. The award is presented to the organization with the most volunteer hours during the year.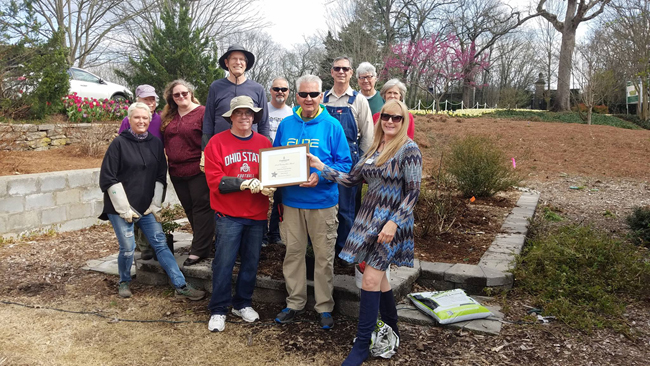 ---
Upcoming Meeting and Events

Monthly meetings, unless otherwise noted, are held at Cheekwood Botanic Hall in the Visitor Services Building on the first Sunday of the month, usually from 2:00 – 4:00pm.
For all currently scheduled Meetings & Events visit the Meeting & Events page.
May 5 – Harris Green, Do's & Don'ts of Adding Woodscapes to Your Garden
Harris Green, Co-Founder of Orlinda Furniture Co. in Orlinda, TN will be speaking on the "Do's & Don'ts of Adding Woodscapes to Your Garden".
Harris, who specializes in custom wood furniture and structures, will cover everything from pergolas, trellises and arbors to outdoor furniture and small garden structures. He'll explain how to select the right wood, the differences in wood stains, show a variety of wood framing styles and even discuss how to protect your structures from destructive insects.

At Orlinda Furniture Co, Harris creates unique products made with hand selected raw materials from fallen barns across Tennessee. If you're thinking about adding a wood structure to your garden, come and learn everything you need to know about what to do and what to avoid from a master craftsman.
The May meeting of NRS will be held on Sunday, May 5, 2019, 2:00 – 4:00pm, in the Potter Room at Cheekwood.
---
May 18 – Bowling Green Rose Show, 1:00 – 4:00pm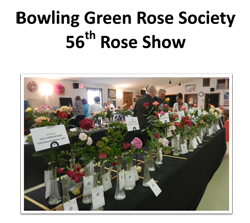 The 2019 Bowling Green Rose Society Rose Show is on May 18, 2019, from 1:00 to 4:00 pm. The show will be held at the American Legion Building, Dishman Lane, Bowling Green, KY 42101.
BGRS invites all Nashville Rose Society members to come and exhibit at the show! Entries may be made from 7-10 am. We are a small show and would love to have exhibitors from NRS!
Click here for our Rose Show Schedule.
For more information, visit the Bowling Green Rose Society website at http://www.bowlinggreenrosesociety.org/.
Free to the Public!
May 18 – Nashville Urban Gardening Festival, 9:00am – 4:00pm
How to Grow Beautiful Roses in Tennessee at 10:40am by Ron Daniels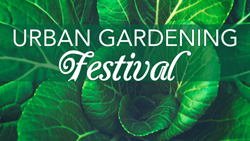 NRS will conduct a workshop at the The Nashville Urban Gardening Festival, hosted by Master Gardeners of Davidson County. The Festival will be held at the Ellington Agricultural Center on Saturday, May 18, 2019, from 9am – 4:00pm.
At 10:40am, learn everything you need to know to grow beautiful roses in Tennessee from this interactive workshop designed to introduce rose care to the beginner or novice – from selecting the best location and preparing your soil, to picking out the right roses, to watering, fertilizing, spraying and pruning. This workshop will be conducted by Ron Daniels, Co-President of the Nashville Rose Society and a Master Consulting Rosarian.
Ron Daniels is a third generation gardener, Co-President of the Nashville Rose Society and an American Rose Society Master Consulting Rosarian. His love for roses dates back over 25 years and he now cares for more than 150 roses and companion plants in his own garden in Hendersonville. Ron is currently the primary Consulting Rosarian for three public rose gardens in the greater Nashville area – The Belmont Rose Garden on the campus of Belmont University, the Rose Study Garden at Cheekwood Estate & Gardens and the Lynn Anderson Rose Garden at Woodlawn Cemetery – and has won numerous awards for his roses as an exhibiting rosarian at rose shows throughout the Southeast. He's also a Master Gardener in Sumner County and a speaks 30-40 times a year to Master Gardener groups, Garden Clubs, Rose Societies and Garden & Flower Shows. Ron opens his magnificent garden to the public twice a year – in the Spring and Fall. To find out the date of Ron's next Garden Tour, visit nashvillerosesociety.org.
For more information, visit the Nashville Urban Gardening Festival Facebook page.
---