Join us at our Monthly Meetings and Events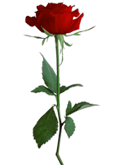 The Nashville Rose Society serves all of Middle Tennessee by sharing knowledge and information about our national flower, the rose. Through a monthly newsletter and meetings that feature regional and nationally recognized speakers, we bring you advice and instruction geared to growing roses in the specific soil and climatic conditions of this area. For all scheduled Meetings & Events, click here.
---
June Rose Growing Notes
by Marty Reich, Master Rosarian, Editor of the Rose Leaf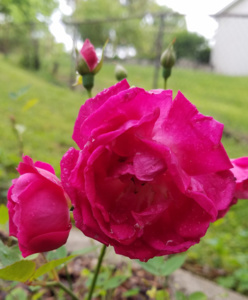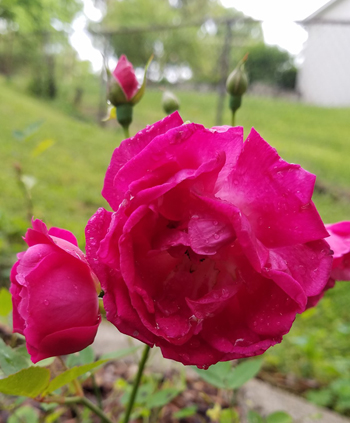 By now you have done spring feeding and have enjoyed the first bloom cycle. Be sure to dead-head everything, meaning to cut off the spent blooms, to make the bushes look better and to encourage them to re-bloom. You should go down to a strong part of the cane where there are 5 leaflets from an outward facing node and cut 1/4″ above it. Sometimes a node has a dark spot on it signaling that new growth will not come from there so you may need to go up or down to avoid it.
By looking at the bush before you cut, you can shape its future growth by cutting at a node facing the way you want the bush to grow. I usually cut back the laterals on the big canes of my climbers to 2 or 3 nodes similar to the Feb. pruning.
---
NRS Spring Grand Prix Results are In!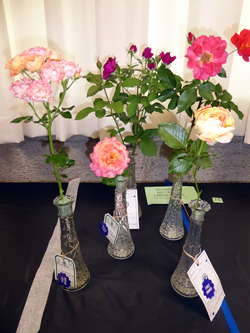 The Nashville Rose Rose Society held the annual Grand Prix Rose Show at Cheekwood on Sunday, June 2, 2019. The Grand Prix is an in-house rose show and a perfect opportunity for new members to learn how to exhibit roses.
And the winners are:
*** First Place – Pam Brown
** Second Place – Millie Dolinger
* Third Place – Marty Reich
Congratulations to the winners and to all the participants who made this show a fun, learning experience. Special thanks to Keith Garman and Martha Weaver Garman who so faithfully coordinate the Grand Prix each year.
---
Upcoming Meeting and Events

Monthly meetings, unless otherwise noted, are held at Cheekwood Botanic Hall in the Visitor Services Building on the first Sunday of the month, usually from 2:00 – 4:00pm.
For all currently scheduled Meetings & Events visit the Meeting & Events page.
July 14 – Mary Steverson, "How to Create Beautiful Arrangements Using Flowers From Your Own Garden"

At the July meeting of the Nashville Rose Society, you will learn simple and easy techniques that professionals use to create beautiful flower arrangements. Mary Steverson, owner of Rebel Hill Florist in Nashville, will show how anyone can build their own flower arrangements with roses as well as other flowers and plant material that members bring to the meeting from their gardens. So, join us and bring your roses, flowers, and other plant materials!
Don't forget – The July meeting will be the SECOND Sunday of July, due to the 4th of July holiday.
---