Monthly meetings, unless otherwise noted, are held at Cheekwood Botanic Hall in the Visitor Services Building on the first Sunday of the month, usually from 2:00 – 4:00pm. The meetings are free to guests, as is admission to Cheekwood for meetings. Simply tell the gate attendant that you are there for the Nashville Rose Society meeting. Cheekwood Botanical Gardens are located at 1200 Forrest Park Dr, Nashville, TN 37205. Click here for a map.
Hewitt Garden & Design Center to Hold "Rose Appreciation Day" on May 5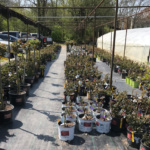 Hewitt Garden & Design Center in Franklin TN, in partnership with the Nashville Rose Society, will be holding their first ever "Rose Appreciation Day" on Saturday, May 5, 2018, (rescheduled from Saturday April 21, 2018), featuring free workshops on how to grow roses, free donuts, door prizes and special discounts on roses and rose supplies. Hewitt Garden & Design Center is located at 2525 Hillsboro Rd, Franklin, TN 37069.
Click here for more information.
May 6 – Todd Breyer, "Garden Design and Companion Plants with Roses"
Todd Breyer is a Registered Landscape Architect and chairman of the Plant Collections Committee, Botanic Garden Committee of the Cheekwood Botanic Garden. Todd worked with NRS to obtain the approval for the Rose Study Garden at Cheekwood. He then designed the Garden design, and oversaw its construction.
Todd is also involved in many projects in Nashville, including:
– Nashville City Cemetery Association, past-president, landscape and grounds coordinator
– MNPS Virtual School, Academy Board
– past county Chair Metro Beautification & Environment Commission (District 24)
– Herb Society of Nashville: Dinner Group Coordinator, Herb Sale, Herb Day
– President, Nashville Lawn & Garden Foundation
– Antiques and Garden Show
– Nashville Lawn and Garden Show
– Friends of Richland Park Library
– West Nashville Farmers Market
– West Nashville Community Festival

June 3 – Annie Owen, "How to Take and Grow Rose Cuttings"
Annie Owen, a long time NRS member and Rosarian, will be doing a program on how to take rose cuttings.
After the first bloom cycle, Ann will invite anyone who is a member of both NRS and ARS that is interested in rooting roses (and other perennials) to her greenhouse. She has a misting cabinet that she roots the plants in and she will keep the cuttings until planting time the following year if needed. Don't miss this opportunity!
Click here for more information on propagating roses.
April

2018

Sun
Mon
Tue
Wed
Thu
Fri
Sat

2

Spring Pruning of the Rose Study Garden

•

3

Monthly Meeting - Vendor Night

•

4

Monthly Meeting - Vendor Night

•

14

Herb Society of Nashville Annual Plant Sale

•
---
For a list of past meetings and events, click here.